Our Services
As a fully licensed and equipped optometric practice, Lifetime Eyecare offers a complete range of eye care services to all our patients.
Whether the eye care issue involves correcting refractive errors with eyeglass or contact lenses, or helping a student find amazing frames, or diagnosing/treating eye conditions and diseases, our experienced team will identify and implement the best eye care solutions for you.
Eye Health Evaluation
With our years of experience in diagnosing and treating typical vision disorders such as nearsightedness, farsightedness, amblyopia, presbyopia, cataracts, macular degeneration and diabetic retinopathy, Dr. Shelly Hook and Dr. Natalie Chai and their team are equipped to provide appropriate therapeutic medical eye care.
At the same time, the Lifetime Eyecare team offers a wide array of high quality eye care products at reasonable prices. Our patients never pay too much for the best quality in eyeglasses, contact lenses, sunglasses, progressive and bifocal lenses, and outstanding service.
Treatment of Eye Disease
If you are diagnosed with an eye disease, you want the best treatment available to get your eyes healthy again. At Lifetime Eyecare, we stay current with best treatment practices. Based on your diagnosis, we may recommend a wide variety of approaches, including improved nutrition, prescription medicines, therapy and vision exercises, or medical procedures.
Good Eyecare Begins With A Yearly Eye Exam!
Although many do not realize it, the best way to protect your vision is with a yearly eye checkup. Even a basic eye exam can instantly detect many health-threatening conditions, such as tumors, vascular irregularities, and diabetes-related injury to the retina. At Lifetime Eyecare, that basic checkup is brief and painless.
Welcome to our specialized Dry Eye Clinic at Lifetime Eyecare!
Dr. Hook and Dr. Chai are proud to be able to provide another service to the community focusing on just Dry Eyes! After months of preparation, researching on choosing the most up-to-date instruments to diagnose, and researching on the best available products for the management of dryness, we recognize the need and prevalence. We are here to help!
What sets us apart from other clinics is the personal care and time devoted entirely to exploring all options and having access to various diagnostic tests and treatments specific to ocular surface disease. Above all, success to anything requires proper education, due diligence in executing the treatment plan, along with patience.
How do I know if I have "dry eye"?
Edmonton and Calgary have the lowest humidity averages of major Canadian cities. In addition to already living in a dry climate, a handful of folks become snow birds and travel south during the winter to one of America's driest big cities - Phoenix, Arizona. You can already see where we're going ...
Most individuals who have dry eyes don't necessarily experience dryness. Most individuals experience dryness in different ways, using phrases/comments such as:
I feel like I have an eyelash/cat hair in my eye, but when I try to look in the mirror, there's nothing there!
Almost feels like sand in my eye - very gritty
My eyes are always red when I look in the mirror
Sometimes I get a very sharp, needle-like pain in my eye for a split second
Very tired or fatigued eyes
I can't read/do near tasks for long periods of time anymore
My vision fluctuates a lot - I have good and bad days, and I find that it gets better when I blink for split second
My eyes always water
These are only some of the common concerns our patients have. If you have experienced or currently are experiencing any of these, chances are you have some form of dryness. In fact, most individuals (including children these days) have varying signs of dryness. The common theme with dry eye is that it can affect the daily routine and activity of a person's day. It can range from mildly annoying to completely disabling and life altering and our clinic strives to understand where you stand in this broad spectrum.
What exactly is dry eye?
Advances in research has drastically increased our understanding of dry eyes within the last decade. Traditionally, we thought of dry eyes as the lack of water production produced by the lacrimal gland above the eye. Naturally, the primary treatment for the dryness were over-the-counter lubricating eye drops that would work now and then. We now understand that there is a complexity to the underlying cause of dry eyes where there is an imbalance to the many components working together to provide comfort.
In a nutshell, the term "dry eyes" is an umbrella term encompassing a myriad of signs and symptoms. In the professional optometry world, experts in the field are now encouraging all optometrists to start using the term ocular surface disease in place of dry eyes. Now, since we are using the term "disease" there needs to be a shift in how we think about dry eyes, and of course a shift in paradigm in how we approach it.
Dry eye can be categorized into two general distinct groups:
Aqueous Deficient Dry Eye (ADDE)
Evaporative Dry Eye (EDE)/Meibomian Gland Dysfunction (MGD)
The majority of dry eye are now believed to be evaporative in nature, but as with anything, most individuals have a combination of the two in varying degrees. Dry eye is often multifactorial and can be secondary to extrinisic factors such as refractive surgery (i.e. LASIK), oral medications, and eye infections to name a few.
Lastly, dry eye has a slow progressive nature and as it worsens over time, inflammation becomes a greater part of the disease profile. 1 in 5 of our patients that we see during their routine eye examination have early signs but no symptoms of dryness. We know that it is only a matter of time (years down the road) where it starts to become an issue.
How do I schedule an appointment for the Dry Eye Clinic?
Most of the time, your eye doctor will already see signs of dryness at your routine eye examination. In the allotted time we have, we are unable to get into the nitty-gritty details of what we see regarding your dry eyes. In addition, there are extra screening tests specific for dry eyes we do here at Lifetime Eyecare that we are unable to address during the time of your routine eye examination.
If you are already a patient of ours, Dr. Hook or Dr. Chai will have already made you aware of what they see during your routine eye examination and perhaps start a dialogue around potentially plugging you into our Dry Eye Clinic. Definitely feel free to bring it up at your appointment, even if you are just wanting more information or curious!
If you are seeing your regular optometrist, we first recommend for you to bring up your concerns regarding your dry eyes with your optometrist to see if they are able to help relieve your symptoms. We welcome referrals from colleagues only if you or your optometrist find that you may be at a cross-road or running out of effective options.
What should I expect at my Dry Eye Clinic appointment?
We ask first and foremost to arrive to your appointment around 15-20 minutes early to fill out paperwork. You will immediately notice the immense amount of paperwork we ask you to fill out - this is all intentional and purposeful. We ask that you fill in the information as best and as accurate as possible as this is what Dr. Hook and Dr. Chai consider "gold" through the course of your experience with us.
First, Dr. Hook and Dr. Chai will take the time to go through the paperwork, screening tests specific to dry eyes, and evaluate the health of your eyes.
Next, a good portion of your time with Dr. Hook or Dr. Chai will be spent educating you about dry eyes (in the general sense), YOUR eyes, and discussing the treatment plan designed for you, and the follow up appointments needed.
You can probably see the complexity of your initial visit with us and our goal is to help you understand dry eye better when you walk out the door of our office than when you walked in. Expect your appointment to be about 1 hour.
For more details regarding our Dry Eye Clinic, please contact us at our office at (780) 462-7500.
Why choose us?
A comprehensive eye health and vision examination is your best insurance policy to maintaining a lifetime of clear vision and healthy eyes. Choosing the right eye doctor should be more than making this decision based on being the "cheapest" or "closest" to where you live. You may only be looking to update your eyeglasses or contact lenses, but sometimes a comprehensive eye exam can make the difference between sight and blindness. Often early signs of certain eye diseases can be picked up way before it becomes a problem, as some eye diseases can be extremely deceptive. The office you choose and the doctor you see is one of the most important choices you can make in healthcare.
With your first visit with us at Lifetime Eyecare, you will notice immediately that your eye exam takes longer than your average 10-15 minute time slot at other offices. The reason is simple - a comprehensive eye exam should simply be just that - comprehensive. Anything comprehensive should not make the patient feel like they are "in and out". A comprehensive eye exam takes time and requires experience. At Lifetime Eyecare, we take the time and we have the experience!
WHAT SHOULD I EXPECT AT MY EYE EXAM?
CASE HISTORY:
Either through downloading and filling our forms online or right before your appointment, you will be asked to answer some pertinent questions regarding your general health, medications you are currently taking, any vision problems regarding your sight and comfort of your eyes. Dr. Hook or Dr. Chai will have a thorough conversation at the beginning of your visit.
SCREENING TESTS:
Autorefractor - Provides an estimation of your prescription
Tonometry (Non-Contant Tonometry) - Measures your eye pressure in the eye and is a good screening test in certain eye diseases such as glaucoma.
Retinal Imaging (Fundus Photos) - Photo documentation of the inside of your eyes (retina). Monitor any changes in the future and for patient eduction.
Optical Coherence Tomography (OCT) - A noninvasive microscopic cross section imaging of the retina. It has the ability to detect problems in tye eye prior to any symptoms in the patient.
Visual Acuity Test - The familiar wall chart is used to assess your ability to see the standardized letters at both near and far.
Refraction - Test to determine your eyeglass prescription.
Binocular Vision Testing - Tests to determine how well your eyes work together as a team. Most often if this is lacking, patients will notice double images when both eyes are open.
External Eye Health - Using the slit lamp (please see our animations), Dr. Hook or Dr. Chai will examine the external health of your eyes.
Internal Eye Health - Using the slit lamp, Dr. Hook or Dr. Chai will examine for signs of abnormalities that may indicate possible ocular diseases, such as diabetes or hypertension.
Education - Dr. Hook or Dr. Chai will walk you through in detail the status of your vision and eye health. If we notice any warning signs or requires further testing outside of your routine exam, you will be educated on treatment options and will be scheduled for further examination.
DILATED FUNDUS EXAMINATION
Dr. Hook or Dr. Chai may dilate your eyes either at your current appointment or at a further scheduled date. The use of dilating drops causes your pupils to enlarge so that the doctor can have a better view of the internal structures of the eye. Certain signs can be missed without having dilated eyes.
How long does it take? When dilating drops are instilled, it takes 25-30 mintues for your pupils to dilate.
What is expected with my vision after being dilated? You will most likely notice more light sensitivity as your eyes are letting in more light. In addition, you will also notice a slight blur to your vision, especially at near. The dilating drops also work to "know out" your focusing system.
How long do the drops last for? Typically between 4-6 hours after.
How can I prepare for this exam? Be sure to bring sunglasses to help with the light sensitivity. We also strongly recommend having a driver in the event that it may be uncomfortable while being dilated.
View our animations on our routine exam services.
What is Vision Therapy?
Vision Therapy is a sequence of activities individually prescribed and monitored by the doctor to develop efficent visual skills and processing.
Unlike spectacle glasses and contact lenses, which compensate for vision problems, or refractive surgery that alters the anatomy of the eye, or eye surgery that alters the surrounding muscles, vision therapy aims to "teach" the visual system to correct itself.
Our Vision Therapy department povides an office/home therapy program, which is directed at the treatment of specific vision conditions diagnosed through a comprehensive Vision Assessment. Vision Therapy is prescribed after findings from a comprehensive eye examination has been performed and there is indication that vision therapy is an appropriate treatment option.
With almost 30 years of experience, Dr. Hook and team of vision therapists has been serving the community with this specialty by working to improve or develop fundamental visual skills and abilities for our patients.
Why Vision Therapy?
In order to understand Vision Therapy, one must realize that vision is more complex than what is commonly referred to as being able to see 20/20. Sight is the ability to see clearly whereas vision is the ability to not only see clearly but comfortably, without discomfort or stress. This is a case where spectacles glasses are just not enough.
There are two tracks under our Vision Therapy Clinic: Binocular Vision Therapy and Developmental Vision Therapy
What is the difference between Binocular Vision Therapy and Developmental Vision Therapy?
Binocular Vision Therapy:
The eyes must be healthy and work well together as a team with both eyes "turned on" and aligned. The children under Binocular Vision are those who seem to hav learned their basic math and reading facts but upon higher grade levels are unable to attend to extended periods of concentrated visual attention.
Developmental Vision Therapy:
Children in Developmental Vision Therapy are those assessed to have average or even above average abilities but school performance fails to match these predicted abilities. While not all learning difficulties are visually related, there are children who have a hard time interpreting their visual world with a history of poor achievement that can be tracked back in some cases to Grade one due to a lag in their visual perceptual or visual processing skills. These skills are those used when analyzing visual information, such as trying to make sense of complicated symbols, and being able to recognize and integrate external stimuli. Dr. Hook will determine if there are any underlying binocular vision problems contributing to the child's overall capacity for learning. Vision is a learned skill and a child should build good binocular vision and perceptual skills in the same manner as they develop their gross and fine motor skills, but some do not master all of the skills necessary to meet their potnetial under normal conditions.
What is required for a Vision Assessment?
Referrals are welcome from teachers, school psychologists, couselors, and colleagues.
Dr. Hook requests the summary from a recent eye exam, done with the family optometrist, and any reports from previous testing (educational and psychological) be forwarded to the office for her to evaluate and make recommendations, prior to scheduling an assessment.
What can be expected at the Vision Assessment?
The appointments are 1 hour, in the case of a Binocular assessment, and up to 2-2.5 hours for a Developmental assessment. Assessments are booked in the early afternoon on a Wednesday, Thursday, or Friday.
Dr. Hook will discuss with the parents/guardians at the consultation appointment the assessment results, the outline of the individualized program, and her prediction for the duration of vision therapy.
What is involved in the individualized program?
This is a difficult question to answer as it is a case-to-case basis and even then, the course of the individualized program can also change throughout therapy based on the patient's progress.
Generally, the office therapy sessions are either 30 minutes as in the case of young children, or more often are 45 minutes long, prebooked every two weeks on a Monday, Tuesday afternoon or Wednesday. The visits are done on a one-to-one basis with our Vision Therapists, Sharon or Liane, The time is used for assessing progress, in-office work, and assigning and practicing new home exercises.
Generally, the home therapy will typically demand 30-40 minutes of work, five times per week, with an adult required to supervise and assist. The therapy completed at home is critical as it simply is not possible to make adequate progress based on work done in the office alone.
Commitment to the schedule is vital to allow for feedback, making certain there are no difficulties with the exercises, to monitor the effects of VT, and to ensure continued progression through the program.
Who is Vision Therapy for?
Vision therapy can be effective for both children and adults.
Because visual skills such as tracking lines of text, coordinating the eyes, and focusing on close objects must be learned during development, these skills can also be improved later in life at any age.
It is estimated 1 in 10 children have a vision problem severe enough to affect their learning in schoo, but school vision screenings can miss up to half of these problems.
Some patients (both children and adults) may develop difficulties when their visual systems are strained, either occurring at near distance with close work like reading or distance tasks such as copying from the board or watching television. The individual may note blur or diplopia (double vision) with symptoms of eyestrain, fatigue or headaches. If clear vision is impossible to sustain, the patient may close one eye or present an unusual head posture; and in the case of a child, a parent or teacher may also observe excessive rubbing of the eyes, and when faced with an increased workload, frustration, avoidance behaviour, as well as other indications of distress.
For further information, please contact the office directly.
GLOSSARY
Strabismus: The eyes are not aligned. One eye turns either in, out, up or down. Referred to in lay terms as "squint" and as "wall eye" or "crossed eye".
Amblyopia: One of the eyes does not see as clearly as the other, even if corrective lenses are applied. Also referred in lay terms as "lazy eye".
Non-Surgical Vision Correction:
Myopia Managment, Corneal Refractive Therapy (CRT), Orthokeratology (Ortho-K)
What exactly is myopia?
Myopia is much more than "just" blurry vision. Nearsightedness is the visual perception that objects at a distance is blurry and clearer up close. Myopia is the condition where the length of the eye is excessively long. Having myopia increases the risk for developming certain eye diseases such as Retinal Detachment, Glaucoma, Maculopathy and early onset of cataracts. In the literature, research has shown a direct relationship between the degree of myopia and risk of these serious eye diseases.
In the technological world, our younger generation is now exposed to technology and screens of all types which can indirectly and directly influence the initial onset and progression of nearsightedness - especially during the rapid growing years. Research has shown that it is a growing epidemic and although there are currently no interventions that stop the progression of nearsightedness, there are alternatives to decrease its progression.
What is Myopia Management/Corneal Refractive Therapy (CRT)/Orthokeratology?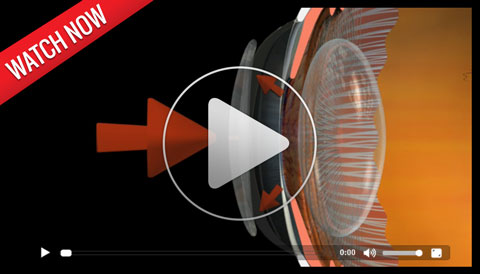 Corneal Refractive Therapy (CRT) involves the use of specially designed rigid gas permeable (RGP) contact lenses to alter the shape of the cornea in order to reduce or correct myopia. It can also be effective with low degrees of certain types of astigmatism.
Light, which gives us vision, is focused largely by the front, clear piece of tissue of the eye called the cornea (the first structure light hits is the tear film)
The CRT lens gently moulds the cornea by applying pressure to the tear film, which in turn is applied to the cornea. This is all done while a person is sleeping. Upon wakening, the goal is to create a sharpened image, eliminating the use of spectacle glasses and/or contact lenses. Because CRT is reversible in nature, when the lens is removed, the cornea begins to return to its orignial shape but so slowly that good vision is maintained all waking hours.
Each night the process is repeated although some find they only need to wear their lenses every other night. The elastic tissue of the eye is not harmed by this process. It is not a permanent alteration of tissue.
Who is a candidate?
The majority of patients with nearsighted correction with healthy eyes can be potential candidates and benefit from CRT. Patients range from as young as seven years to adults in their 60s.
There are many factors to ultimately determine if you or your child is a candidate. In the context of children with good parameters, we make the decision based on their maturity, hygiene and motivation. These patients enjoy the bonus of being able to play, swim, play sports and other routine daily activities without the need for glasses or daytime contact lens wear. We also take into account their history of their myopia, either there is a strong family history of myopia or the patient who already demonstrated rapid progression of their myopia at each yearly visit.
In the context of patients who are older than ~18 years of age, and adults, the purpose is not for the management of myopia. Rather, the purpose is as an alternative to refractive surgery and other correction. Additionally, patients over forty years old will need to consider that near reading vision may be blurred.
How do I start the process of seeing if my child is a candidate?
At Lifetime Eyecare, Dr. Chai has extensive training and experience with CRT, beyond what is required for certification. Using state-of-the-art corneal mapping equipment, Dr. Chai performs a thorough fitting process for the CRT lenses. Each lens is designed to uniquely fit the eyes of each patient. Due to its complexity, only a select few eye doctors pursue an advanced level of training to perform non-surgical vision correction.
Referrals are welcome and Dr. Chai requests the summary from a recent eye exam, and if possible, a summary of the progression of nearsightedness from the previous years to be forwarded to the office. This will help in the initial evaluation of candidacy and to get a snapshot of the patient's eye health and trend of myopia before scheduling a CRT consultation.
What should I expect at the CRT consultation?
Given that the summary of the patient's examination has been forwarded to us, you should expect the visit to be about 30 minutes. The patient will start with specialized corneal mapping equipment and extra screening tests.
Dr. Chai will review the patient's history, prescription and will evaluate the eye health of the patient. The majority of your doctor's visit will be tailored to discussing the candidacy of the patient, educating you more about CRT, and most importantly, discussing expectation and predicting outcomes. Dr. Chai will take the time to answer all your questions and concerns to better help you understand and make the best decision.
Ultimately, if you decide to proceed with CRT, details on what comes next in the process will be discussed regarding custom lens design, CRT lens fitting/training sessions, and all progress check appointments.
For further details, please call our office directly at (780) 462-7500.
Please click here for information on scleral lenses.

What are scleral lenses?
Scleral lenses are large diameter rigid gas permeable lenses ranging from 14 mm to 25 mm in diameter (soft contact lenses are on average 8-12.5 mm). They are designed so that all of the weight of the lens is on the sclera (the white part of the eye) while avoiding contact with the cornea. The lens creates a tear reservoir over the cornea, providing excelent comfort and vision. Scleral lenses have within the last decade become a popular alternative to soft contact lenses.
Who could benefit from scleral lenses?
Traditionally, scleral lenses were considered in patients with various ocular surface pathologies, as they provide corneal protection and vision improvement. However, scleral lenses are great alternatives to patients who find soft contact lenses intolerable and to patients who suffer from dry eyes.
Irregular corneas: conditions such as keratoconus, and pellucid marginal corneal degeneration cause irregularity of the cornea. Surgery (keratoplasty, refractive surgery) can also lead to corneal irregularity. If the cornea is not smooth, it is difficult to acheive good vision with spectacles or most soft contact lenses. Scleral lenses provide optimal vision improvement by "correcting" the irregular cornea. The lens vaults the irregular/pathological cornea entirely, in essence creating a "new corneal surface".
Conditions that affect tear film: Some patients have disorders that affect the quality or quantity of tears that help keep the eye's surface smooth and healthy. These conditions include but not limited to:
Severe dry eye syndrome
Graft vs. Host Disease
Sjögren's syndrome
Stevens Johnson syndrome
Neurotrophic keratopathy
Patients who cannot close their lids completely
The fluid reservoir beneath the scleral lens may improve comfort, and may allow the corneal surface to heal - acting to protect the corneal surface.
Intolerance to other forms of correction
: some patients with refractive errors (nearsightedness, farsightedness, astigmatism etc) may be unable to wear other forms of correction - namely soft contact lenses for numerous reasons. These candidates may find better comfort and/or improved vision with scleral lenses.
At Lifetime Eyecare, scleral lens fittings are performed using techniques involving advanced equipment. Our sophisticated devices allow the doctor to analyze exact lens profiles and fitting relationship of the lens to the sclera and cornea. As a result, these custom-designed scleral lenses are often the solution to most irregular or pathological corneas.
Are scleral lenses new?
They are not new - just "resurfacing". Scleral lenses were actually the first contact lenses described in medical literature in the late 1800s. Challenges with manufacturing, and a lack of oxygen permeability, scleral lenses did not become popular at the time. In the next century, corneal rigid gas permeable lenses (RGP/hard contact lenses) and soft contact lenses became increasingly popular.
RGP and soft contact lenses could not solve some of the problems caused by corneal irregularity and other eye diseases. Scleral lenses gained popularity in the 1980s when high oxygen material became available and could be reliably manufactured with more sophisticated designs.
For more details and information on scleral lenses, please contact the office at (780) 462-7500!